(
5
mins read )
New Mobility is a megatrend. The ongoing revolution is changing the fundamentals of how people move in both their professional and private lives. It's also changing the role cars will play in the future. Being a building block of future mobility, the car rental industry will be affected by this change. That's why it needs to find a sustainable position as future mobility provider in the sharing economy.
Price is one of the most relevant key success factors for customers when choosing their rental car. And one of the main cost drivers is the involvement of internal staff or Third Party Administrators (TPAs). This becomes particularly relevant with manual processes such as checking for damages during the return process. Here, technology can also be an enabler for cost reduction.
So wouldn't it be great to have an AI-based, easy-to-use way to do this via the customer's smartphone?
The answer is yes! And a working solution is provided by Claim Genius. Our white-label app takes care of pre and post rental inspections detecting and displaying any new damages or anomalies. So besides tremendous cost benefits, this also significantly improves the customer experience.
No one likes to do the pre-inspection for damages in a windy and cold parking lot or while the next appointment is already waiting. Even worse, with a paper report in hand showing existing dents and scratches to be checked against. These practices have become ancient history, given the rise of Claim Genius and its tech solutions.
With instant photo and video capturing, customers can have a guided pre/post view of the car with all damages immediately displayed in less than 2 minutes. It's as easy as taking pictures for an Instagram post. So no more sour feelings when avoiding the "round the car tour" looking for damages. No hassles during discussions on unjustified rental damages. In addition, customers are used to applying video-based solutions due to the covid-19 crisis, where video-conferencing has become a natural habit.
To complete the customer experience, mileage and fuel gauge reading can be included via picture taking and automated recognition. Happy customers are also more open to in-app or stand-alone promotions – which comes as a nice side effect for further customer contact.
As a result of all mentioned dimensions, this presents a unique opportunity to streamline processes & quality, decrease internal and external costs and increase customer satisfaction at the same time – a real win-win situation.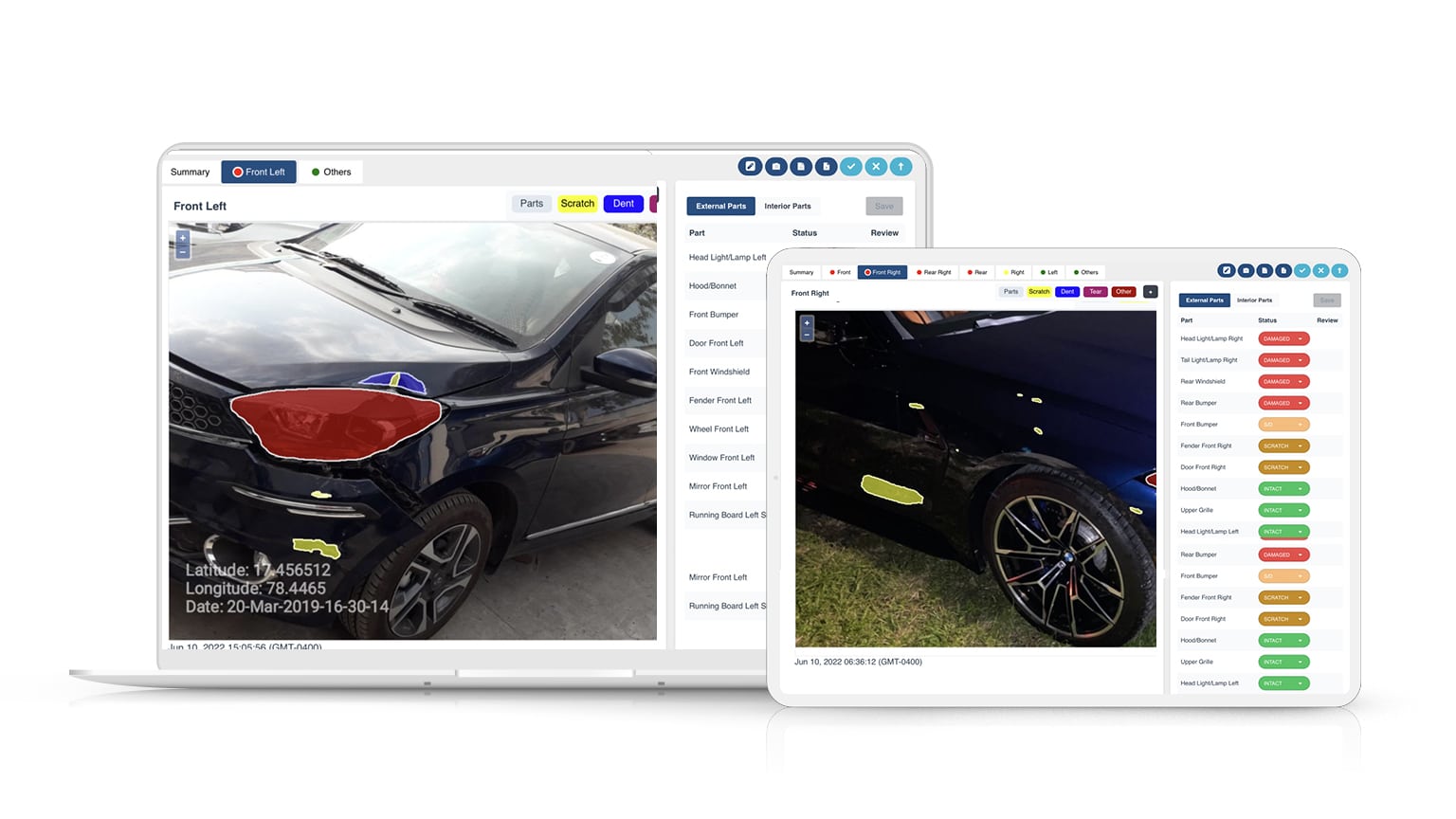 Claims Revolutions: Adoption of Artificial Intelligence (AI) by European Insurers
Technological developments continue to rise with expectations that we'll experience more progress in the next decade than in the past 100 years. A key pillar of this revolution will come from Artificial Intelligence and will also drive the revolution of today's Vehicle Claims Management.
This comes at a time when many traditional claims experts will leave their profession, thereby opening the way for AI to close the gap. And not just the resource gap but also the cost gap! If you look into the western markets with higher salary caps, single expertise can cost up to EUR 270 on average. In any case, the message to the industry is clear:
"Get prepared now and start automising your claims process via AI-based claims-tools!"
Today, this is possible due to the high accuracy of the tools from Claim Genius. Truly best-in-class! The journey from "Low Touch to No Touch" claims is easy with Claim Genius' sophisticated & easy-to-use claims & pre-inspection products. A line-by-line estimate is very important for any insurer and Claim Genius is working with GT Motive & Autovista – the 2 largest estimatics platform in Europe – to put Claim Genius ahead of the curve.
It's crucial to investigate the prerequisites and understand how AI works to gain confidence in AI. Getting human-like estimates by AI has a lot of complexities involved. Volume is one parameter, but understanding the type of the vehicle, metallurgy, labour costs, geographies where the claims belong, replace vs repair costs, and body type are also factors. Instead of a single OEM type recognition, the integral logic of AI is to make it scalable across different OEMs. This will lower costs if new models are introduced into the market because AI's accuracy is already sufficient to start an automised process. If development is done in the wrong way, the costs to keep an AI system up-to-date will be too high because each car type would need to be trained separately before it can be integrated.
VIN (Vehicle Identification Number) – decoding will help AI to detect potential damages in the right way. An example is the distance-sensor in the bumper which might be seen as a dent if the VIN-decoding is not displaying a distance sensor in the bumper due to the VIN-related trim-line.
But there is more to AI implementation and adaptation strategies in Vehicle Claims Management. The best and most efficient way to save costs and time is to look at historical data and train the system with existing pictures of past claims. This ongoing training leads to growing accuracies, but it can be done before integrating the new processes. This increases their acceptance dramatically.
Additionally, specific aspects are to be considered:
Specific developments along with business rules (i.e. total loss/others incl. role-models for back-office stuff)
Clearly defined test fields allowing the organisation to improve along growing AI capabilities with easy to deal with API-interfaces
Availability of a critical mass of claims to see improvements. Regional acting companies might be better at the starting point with the regional-specific car types. Still, they will be slower in the mid-term and long-run, driving the accuracy to another level. Regional providers of AI will most likely struggle the moment new vehicles come up such as TESLA or Polestar. In addition, access to IT development capacities is crucial for any new technology. Due to the existing access on low-cost and nearly unlimited IT development capabilities in India combined with the highest international standards on how to do business (i.e. GDPR compliance in the European Union) and IT projects, this leads to an unbeatable advantage.
The future is clear. Adapting AI capabilities to the Vehicle Claims Management area will lead to unmatched automation levels with process and cost efficiencies that are no longer evolutionary.
Hereby many insurers try to acquire and integrate AI intelligence and capabilities. However, strategic partnerships with a global specialist can be a better alternative to outsmart the competition. This way, you can secure continuous access to best-in-class developers and profit from global AI learnings and developments within the community. In addition, this grants entry to industry experts and industry specialists worldwide, which is a pre-condition for success.
With Claim Genius, you get all of this.
Not only because we are a global company with global customers but also due to our shareholding independence within the industry.
Contact us to get started on your journey to smoother, more accurate vehicle claims management.