GeniusINSPECT
for Claims
Slash the time and expense of processing vehicle claims
with our advanced AI damage analysis platform.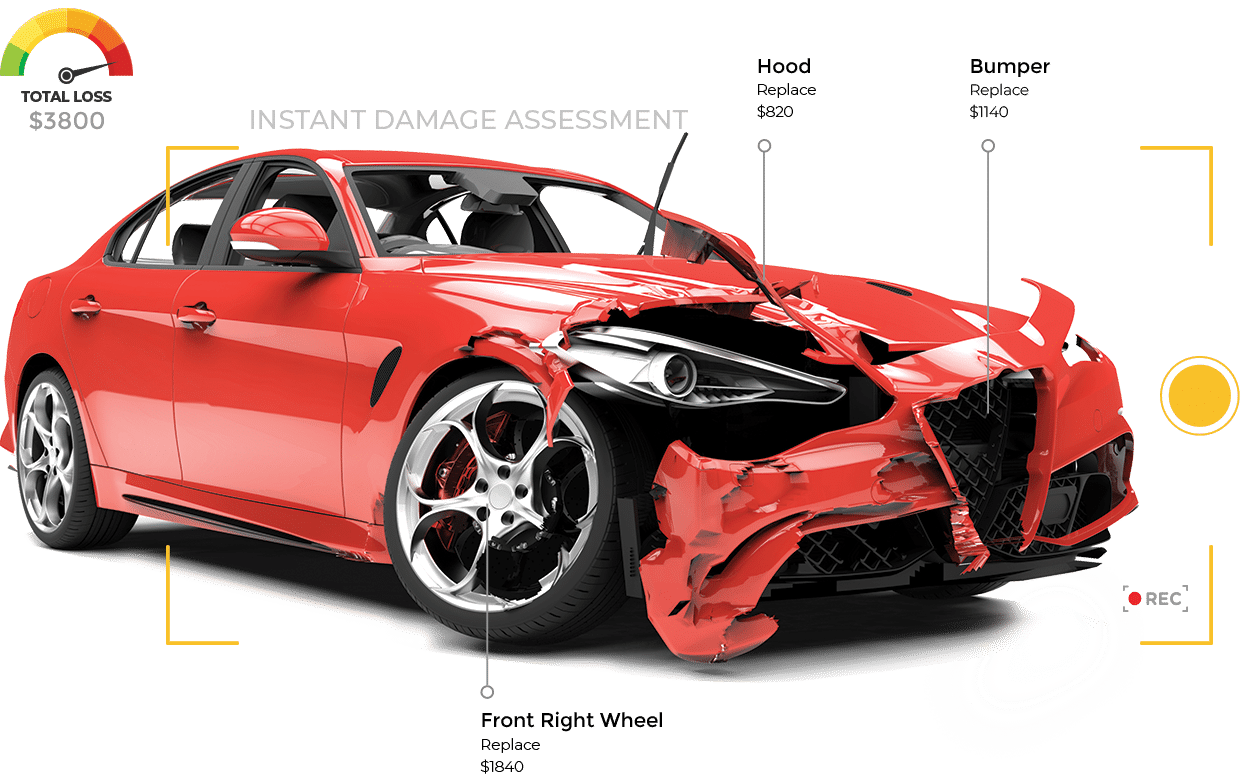 Analyze and process vehicle claims in minutes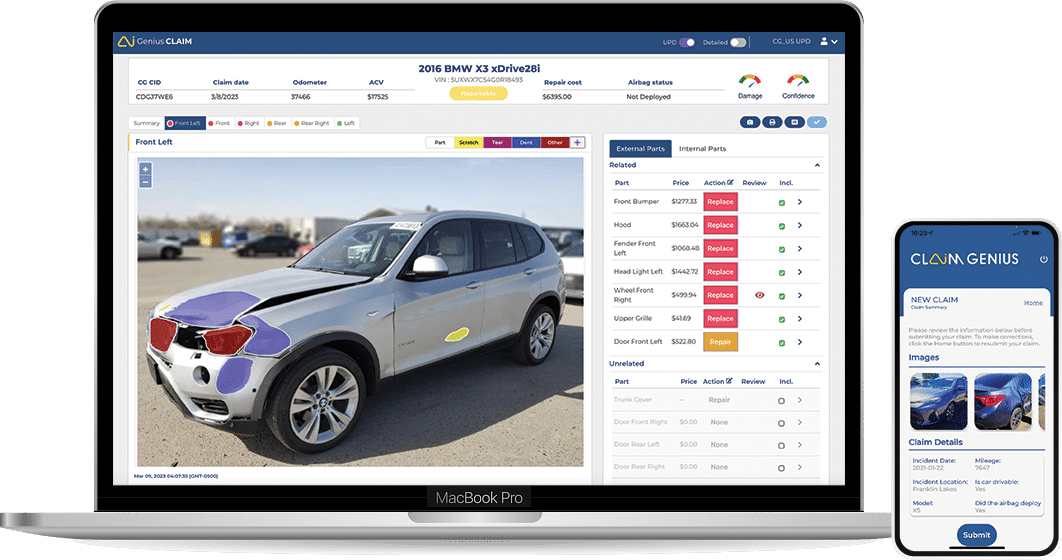 01

Capture
Customers use any camera- enabled device to capture images/video of damaged parts.
02

Analyze
GeniusAI assess the vehicle damage and provides an automated repair/replace decision based on client criteria.
03

Adjust
Genius Dashboard allows the claims adjustor to accept or modify the assessment.
04

Approve
The insurer approves the estimate within minutes and sends it to the insured party.
Accelerate your claims experience

Genius360
Guided mobile app to capture 360° photos & videos of the vehicle.

Fraud detection
Automated vehicle photo validation before processing claims.

Custom thresholds
Model decisions & sensitivity calibrated to your criteria.

Instant total loss
Predict vehicle total loss with high accuracy in less than 3 minutes.

Severity analysis
Instantly identify the severity of vehicle damage and map out the affected parts.

API support
Comprehensive APIs for custom integration into client systems.

Internal parts prediction
Repair vs replace prediction for over 100 internal parts.

Active feedback
Provide live feedback of missed damage to improve AI accuracy.

Condition reports
Detailed vehicle analysis available in web or PDF format.

Global support
Versions for North America, EU, LATAM, Asia in local language.

Parts & labor data
Integration with global estimatics & data providers – Mitchell, GT Motive, Schwake, Merimen, Boodmo.

Flexible pricing
Available on a subscription or pay as you go model.
Smarter decisions with integrated parts & labor data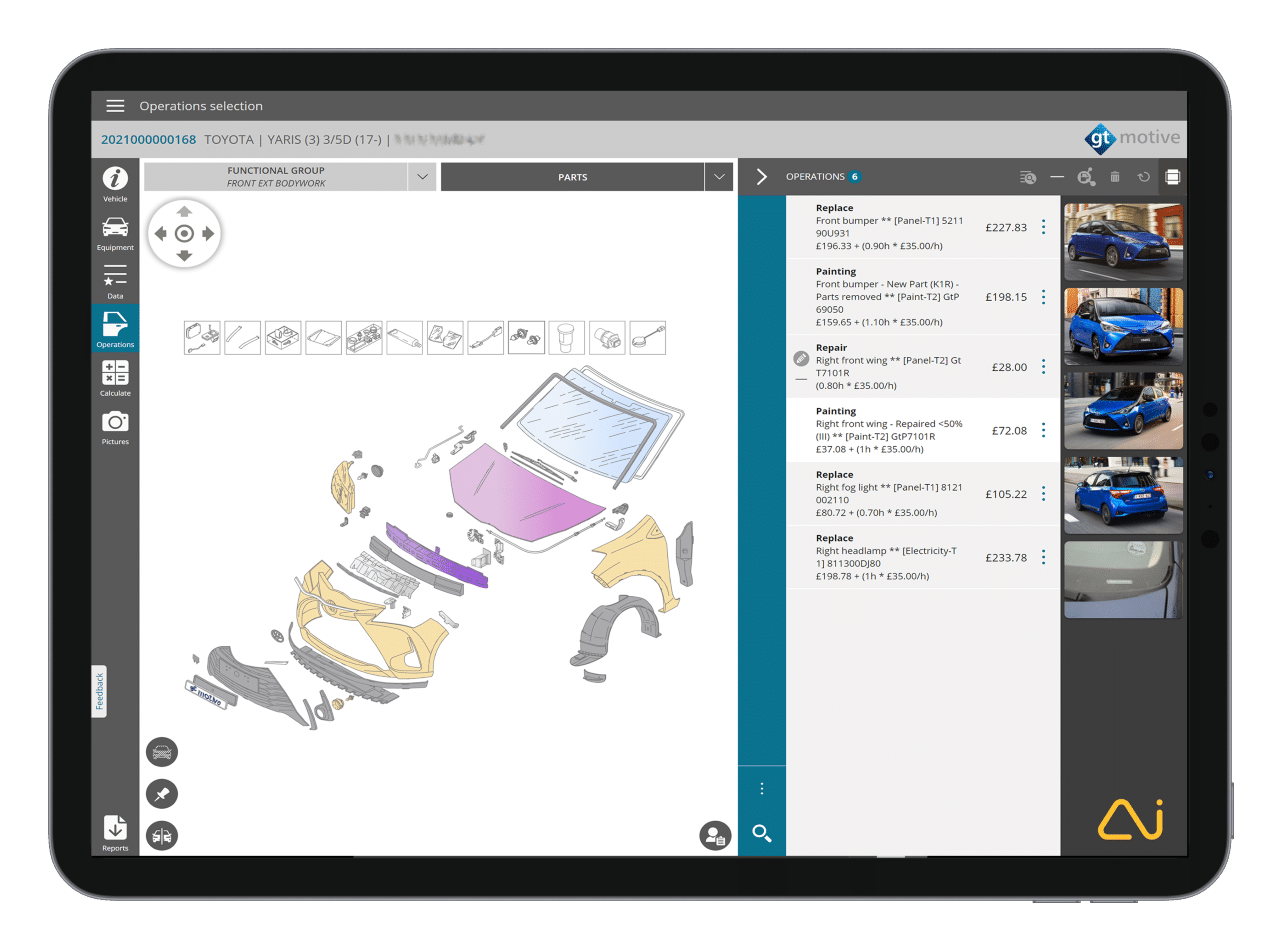 Claim Genius is directly integrated with the world's leading estimatics and parts data providers, allowing for faster nad more accurate vehicle estimates tailored to your local market. Or we can ingest your parts catalog for fully customized output.
Reduced time & cost
Virtual inspections using any camera-enabled device
to eliminate cost & delay of in-person assessments.
Million +
claims processed

Simplified claims
process
Instant click, analyze, assess, and
approve

Instant & enhanced
triage
Easy and quick decision on the
channel for repair

Improved
consistency
Collision shop, surveyor, or claims
adjuster, independent appraiser
Claim Genius is now helping us automate the entire claims assessment, resulting in not only non-linear cost growth but also customer delight.
-Amit Bhandari, CTO, Magma