The Lease Industry's Go-To Instant Vehicle Inspection Tool
Leasing and rental fleet operators today rely heavily on physical inspection of vehicles. A comparative study of the vehicle, both before and after customer use, is conducted to identify damage and repair obligations. Inspection operations are slow and expensive, reducing firm profitability, and negatively impacting customer satisfaction. This is where GeniusLEASE comes to save the day.
A component of our AI-based Salvage & Lease Package, GeniusLEASE allows operators to implement an instant pre and post inspection process, by means of artificial intelligence. The user interface is elegant and seamless, complete with the facility to simply upload photos from Claim Genius's mobile app. Our patent pending platform can save operators more than 50% of processing time and cost.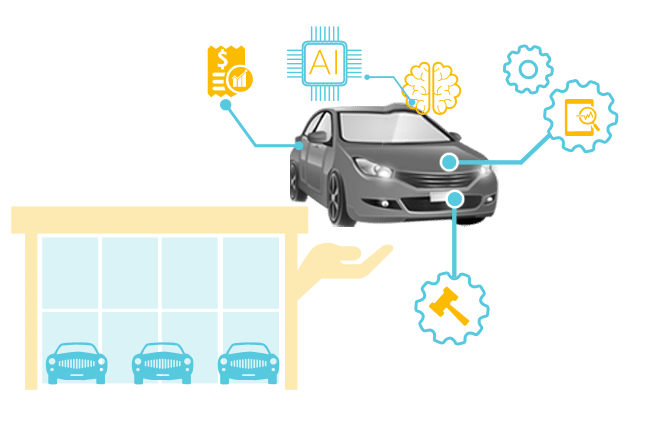 Features of GeniusLEASE
Claim Genius's instant vehicle inspection tool system for leasing firms
Comprehensive AI bidding solution for leasing and rental firms.
Includes white labelled mobile app and cloud-based AI platform.
GeniusLEASE allows firms to instantly assess vehicle damage, affected parts, and customer repair obligations via photos uploaded from Claim Genius or firm's mobile app.
Easy to integrate with firm's existing systems and mobile apps.
Streamlined customer onboarding and customization.
GeniusLEASE is compatible with a multilingual audience
Available mid-2020.
How does GeniusLEASE work?
Lease and rental fleet customers can quickly upload photos of rented or leased vehicles via our Genius APP or the firm's existing app or APIs.
Claim Genius' Al technology instantly and accurately identifies vehicle damage, severity, affected parts, and repair costs based on customer-defined rules.
Firms can save up to 50% of processing time and cost.
Integrating this instant vehicle inspection tool into existing workflows is fast and easy using our GeniusAPls and expert engineering team.