"Why do I need insurance? I'm a cautious driver."
Well, troubles don't knock on doors before arriving. Wouldn't it be better if you were insured against unnecessary losses? The insurance industry is growing. At Claim Genius, we are working towards integrating it with advanced technologies like Artificial Intelligence, to allow for Touchless Claims. Our products make insurance claims easier through our app-based interfaces, which are a part of our GeniusSUITE.

GENIUS SUITE
GeniusCLAIM
Claim Genius's flagship claim estimation system for carriers
Uses latest AI technology to allow carriers to make instant decisions on total loss and damage estimates based on photos & videos uploaded from Claim Genius's self-guided Genius APP
Easy to integrate and white label into carrier systems
Multilanguage compatible
Available globally today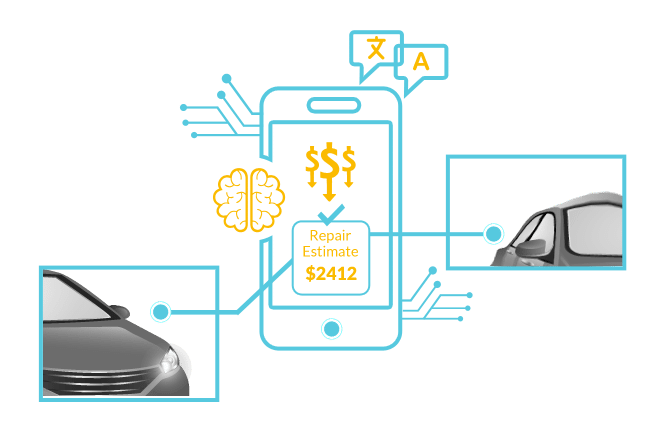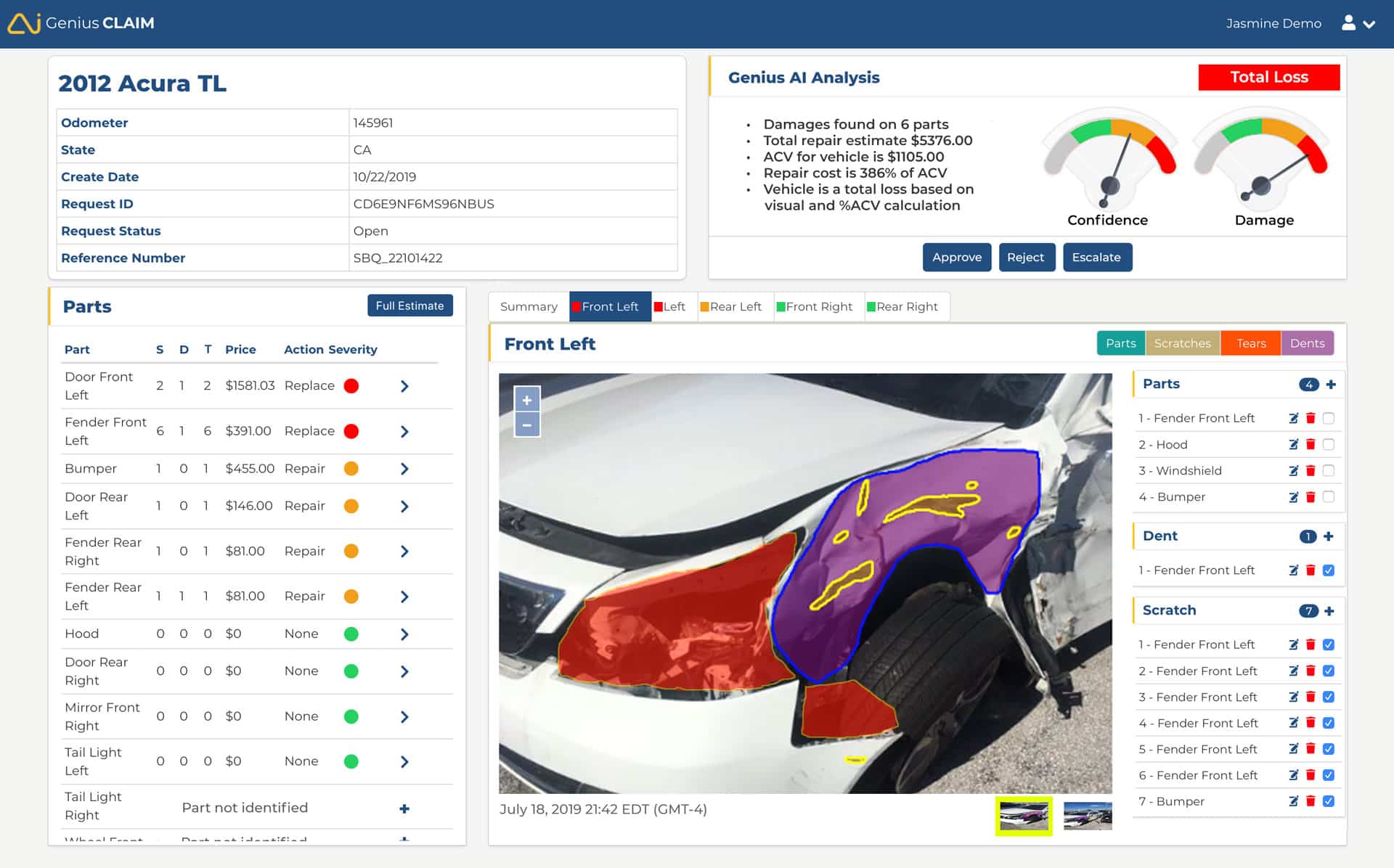 GeniusPREINSPECT
Claim Genius's pre-inspection workflow solution for carriers
Allows carriers to make an instant decision on break-in policy renewals
Provides suite of tools to allow carriers to capture and manage vehicle pre-inspection data and damage imagery via our self-guided Genius APP
Easy to integrate and white label into existing policy workflows
Multilanguage compatible
Available globally today
Easy upgrade to GeniusCLAIM solution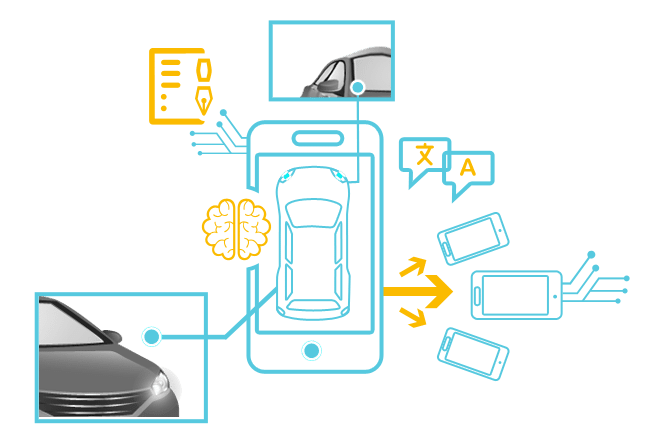 GENIUS COMPONENTS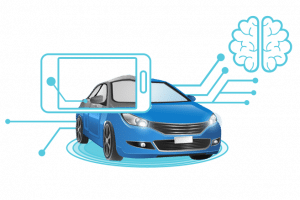 GeniusAPP
Customizable self-guided mobile app used by insured to capture and upload accident photos and videos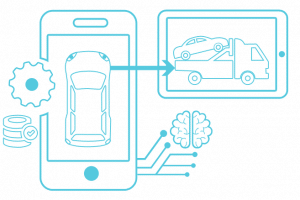 GeniusAPI
Full suite of web service APIs to allow custom integration of AI functions into carrier platforms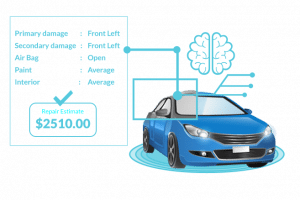 GeniusENGINE
World class patent pending AI damage estimation engine with neural processing technology, custom trained to your company's covered vehicles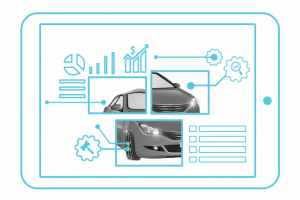 GeniusDASHBOARD
Carrier admin tool which provides full access to uploaded and analyzed claims photos and data

GENIUS WORKFLOW
Move your claims process into the fast lane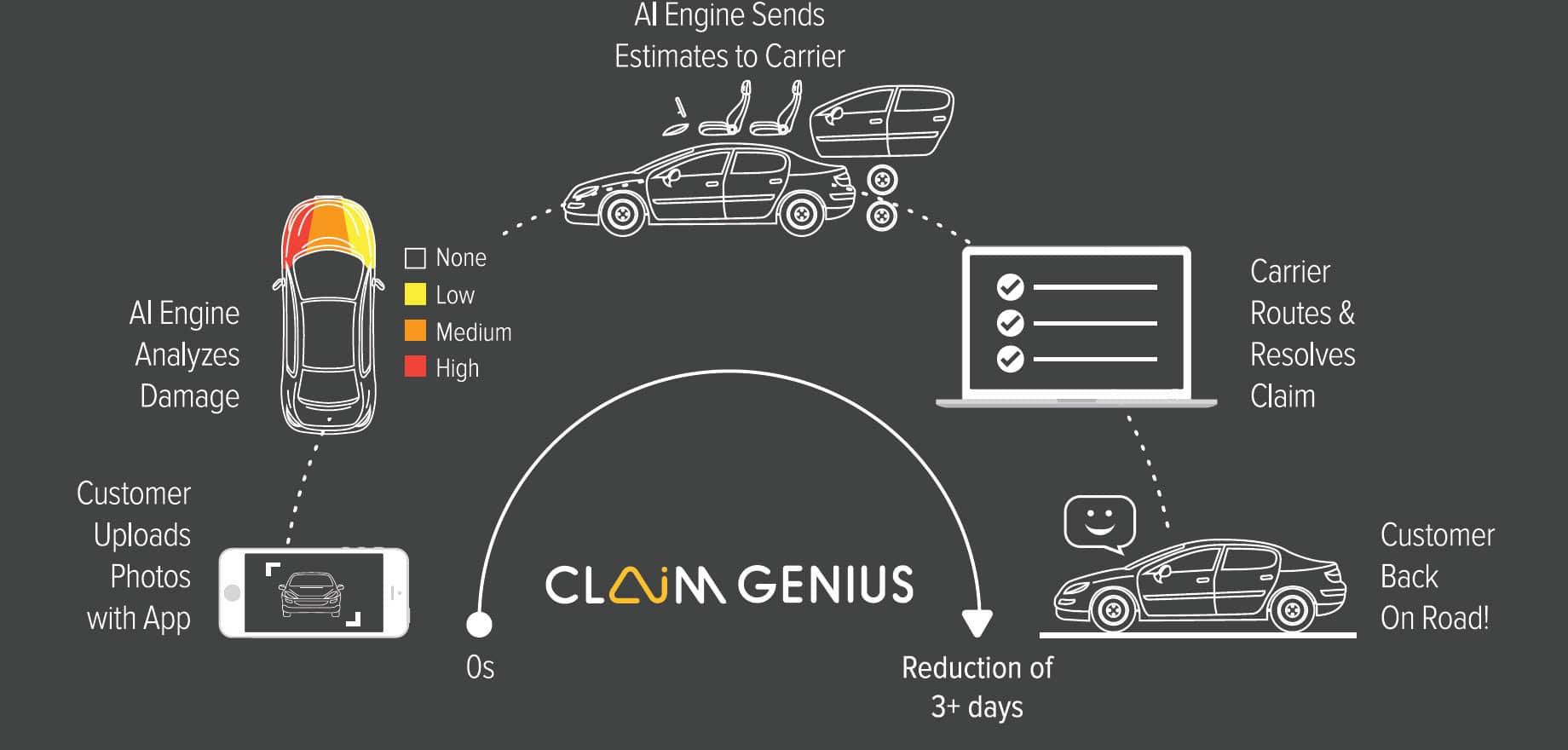 Claim Genius's patent pending claim estimation technology can greatly streamline your claims process.
This eliminates costly storage, towing, in-person appraisals, and more.
Often saves hundreds of dollars and days of processing time.

GENIUS METRICS
SPEED + ACCURACY + CONSISTENCY
Average Estimate Time
< 15s
Repair Cost Accuracy
> 90%
Estimate Consistency
> 90%