GeniusSALVAGE Makes Automated Salvage Bids Possible
Today's salvage and auction yards rely on efficient and accurate processing of new total loss vehicles to maintain their bottom line. Current processes are often slow and manual. They may depend on physical inspection and outdated bidding methods. This can drive down yard profitability and throughput. With Claim Genius's GeniusSALVAGE solution, a part of our recycling and salvaging solutions,  auction yards can make immediate decisions on guaranteed and automated salvage bids and instantly prepare new vehicles for auction. This is how our tool saves time and money, and increases revenue.
We are also attendees of the Conference of Automotive Remarketing (CAR). CAR is the only event where the auction industry takes part in new initiatives and fruitful networking. Through the advent of CAR, we had the opportunity to interact with creative professional peers and showcase our powerful AI-based salvaging tools.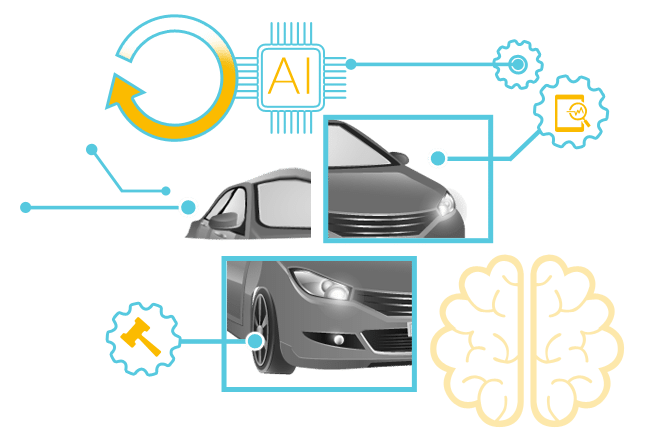 Features of GeniusSALVAGE
Claim Genius's recommended solution to auction yards for automated salvage bids
Provides a comprehensive automated bidding solution for salvage and auction yards.
Includes a white labelled mobile app and a cloud-based AI platform.
Allows yards to instantly assess vehicle damage and also automate salvage bids. Salvage yards can achieve this by uploading photos from the Claim Genius app or the carrier's own mobile app.
Easy to integrate with existing yard systems and mobile apps.
Streamlined customer on-boarding and customization.
GeniusSALVAGE is compatible with a multilingual audience.
Available mid-2020.
How does GeniusSALVAGE work?
Salvage yards can upload photos of new carrier assignments via our Genius APP or the yard's existing app or APIs.
Claim Genius's Al technology instantly and accurately identifies vehicle damage, severity, affected parts, and assures a guaranteed bid based on yard-defined thresholds and rules.
Yards can save up to 50% of bid processing time and cost.
Integrating Claim Genius into existing workflows is fast and easy through our GeniusAPls and an expert engineering team.