GeniusCLAIM Offers Faster Claim Estimation & Processing
Today, even though the world has witnessed technological marvels, processing claims is still a slow and painful process. For carriers, claim estimation, followed by actual claim settlement, can take many days and require multiple hand offs. An insurance claim has to suffer through administrative bottlenecks, and can even cost hundreds of dollars to get estimated and settled. For insureds, waiting for a claim to be processed can be frustrating, confusing, and disruptive. This can make vehicle insurance leave a bitter taste in your customers' mouth. With GeniusCLAIM, a part of our Genius SUITE, we offer a better way!
Touchless claims are fast becoming the norm and we intend to be major supporters of the field.
While AI is the brain behind Claim Genius tools, client centric services are the heart. User experience is our top priority. We have taken a lot of care to make GeniusCLAIM compatible with many languages. And of course, no tool is useful if you can't use it the moment you need it. GeniusCLAIM is available instantly, worldwide.
We bring to you the promise of easy AI-based claim estimation and processing. Drive better customer satisfaction with hassle-free insurance claim settlements.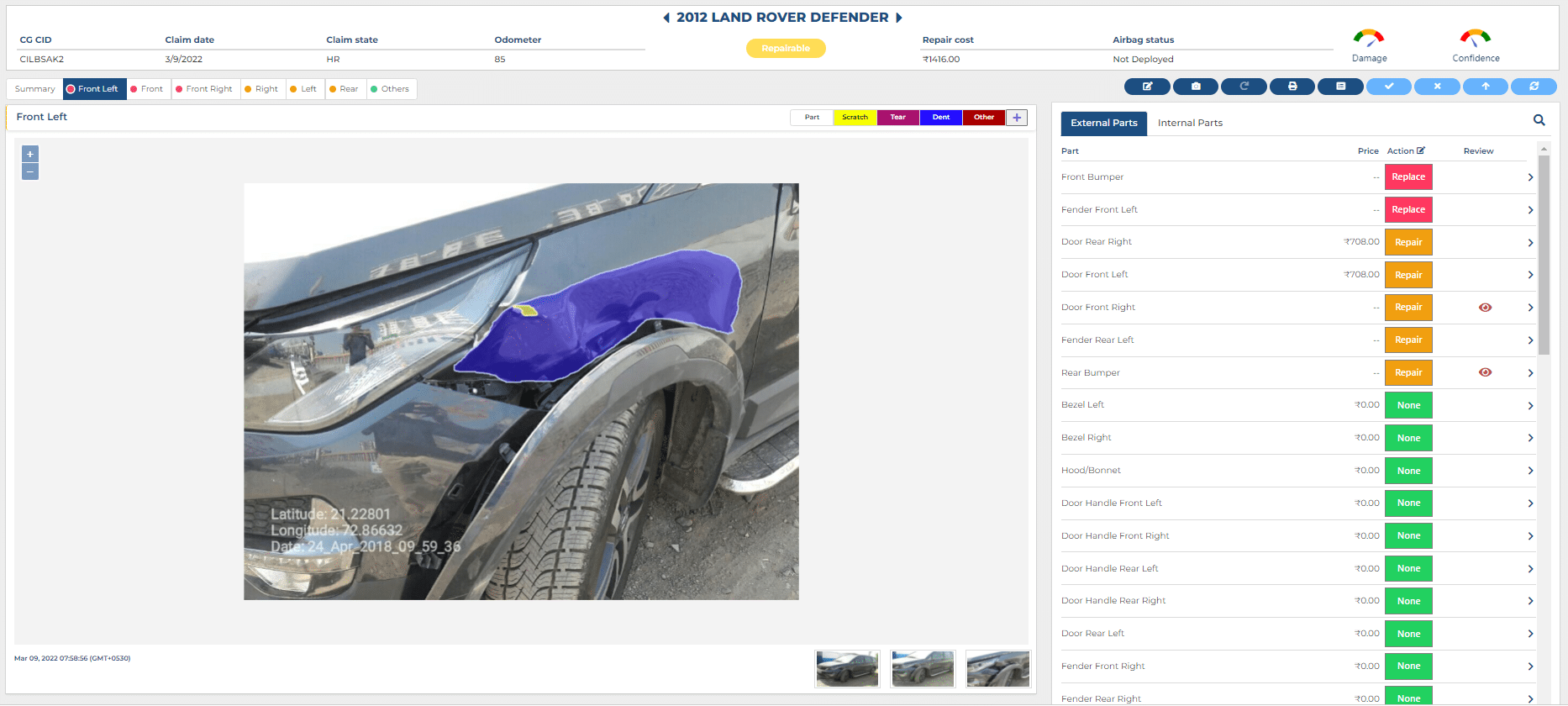 Introducing GeniusCLAIM 2.0
With Improved Accuracy and Even Faster Claims
Full support for major vehicle types – sedan, SUV, hatchback, pickup, van, and more
Visual damage editor with active feedback to further train our AI models & improve accuracy
Photo & video processing support
Repair / replace decisions on over 50 external and 100 internal parts
Handling of zoomed photos with up-close damage identification & mapping
Integrated parts pricing & labor data available in certain markets
Comprehensive APIs and embeddable widgets to facilitate custom integration into client systems
Companion white labelled mobile app
Now available in the market
Claim Genius's Flagship Claim Estimation System for Carriers
Provides a comprehensive AI claim estimation and processing solution.
Includes a cloud-based AI platform.
Carriers can instantly assess vehicle damage and predict total loss. For this, carriers simply have to upload photos from the Claim Genius mobile app or the carrier's own app.
The GeniusCLAIM tool is easy to integrate with carrier systems, estimatics data, and workflows.
Streamlined customer on-boarding and customization.
GeniusCLAIM is compatible with a multilingual audience.
Available today.
How does GeniusCLAIM Work?
Insureds can upload accident photos of their damaged vehicle through our Genius APP or the carrier's own app.
Claim Genius's Al technology instantly and accurately determines damage severity, affected parts, repair or replace decisions, and total loss. Using our tool, carriers get a holistic, point-of-accident view of vehicle status. They can make instant decisions on how best to route a vehicle for processing.
Carriers can settle total loss and low severity claims instantly, and with over 90% accuracy. This allows drivers to get back on the road faster.
Using GeniusCLAIM, carriers save up to 50% of claim estimation and processing time, while driving down the costs.
With the help of our GeniusAPIs and an expert engineering team, carriers can easily fit Claim Genius into their workflows.